Socrates' Book Reviews...
Saturday, September 5, 2015
August was an okay reading month for me. Eight books isn't terrible, but I would have liked to read more. Maybe in September. I've already completed two books for September so I'm off to a good start.
Agatha Raisin and the Perfect Paragon
by M.C. Beaton (audio)
Give Em Pumpkin to Talk About
by Joyce and Jim Lavene
Better Homes and Corpses
by Kathleen Bridge
Agatha Raisin and Love, Lies, and Liquor
by M.C. Beaton (audio)
Fool Me Once
by Steve Hockensmith with Lisa Falco
The Gates of Evangeline
by Hester Young
Kiss Christmas Goodbye by M.C. Beaton (audio)
Code Grey
by Clea Simon
Friday, September 4, 2015
Series: A Dulcie Schwartz Mystery (Book 9)
Hardcover: 224 pages
Publisher: Severn House Publishers; First World Publication edition (August 1, 2015)
ISBN-13: 978-0727885067
E-Book ASIN: B010SWRCLE
The winners of The Gates of Evangeline by Hester Young are....
Anita Y.
Bridget A.
The winners have already been notified by e-mail.
Congratulations to Anita and Bridget!
Thanks to all who participated.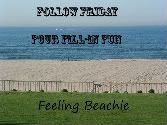 This is a fun meme and it's hosted by Hilary at
Feeling Beachie
. Check out her lovely blog, if you'd like to participate.