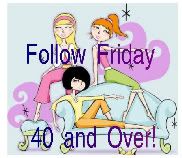 I had never been part of a blog hop until last week and I had fun with it, so I'm back again :) This one is hosted by Java at
Never Growing Old
. It's for all bloggers over 40. Here are the rules...
1. Grab the button
2. Add your link to the list
3. Visit as many other blogs as you can
4. Follow the ones you like (and comment on their blog to say that you are following)
Sign up at
Never Growing Old
.
Yay, it's Friday! I figure the best way to show my feelings about Fridays are in pictures...